PCM's, patented precision fuel delivery and filtration system, the Fuel Control Cell (FCC), ensures that the engine always has a constant supply of fuel, and has the best fuel protection in the industry.  The conveniently mounted multi-pump reservoir provide unmatched reliability, and with two 10-Micron fuel filters/water separators, the FCC out performs the competition's "in tank" pump system in every way.
100% Closed Cooled
Every PCM engine is 100% closed cooled for ultimate protection from the harsh marine environment. Included in this package is a quick drain system for quick and easy winterization
Direct Injection
PCM's utilization of Direct Injection Technology provides industry-leading torque, horsepower, and fuel efficiency. Direct Injection allows smaller displacement engines to make as much or more horsepower as larger displacement engines, all while burning less fuel.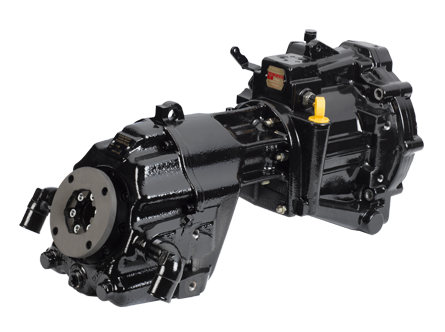 Power Plus Transmission and V Drive
PCM's Power Plus 80 series transmissions have been designed to handle the torque and horsepower of the future. Plus 80 series delivers the smoothest and quietest shifting and operation in the industry. The Power Plus V-Drive's compact design allows for more below deck space (i.e. ballast), along with increased room in the interior. The through-shaft design makes service and realignment simple, and are crafted from the most durable materials available. The Power Plus V-Drive comes is several gear ratios up to 2.0:1, thus doubling the power output of the engine.
Industry Leading Warranty
The PCM 5 Year 1000 hour warranty, combined with the most comprehensive dealer network, provides the PCM customer with the best protection on the industry.
Additional Features
Service Focused Design
Every PCM engine was designed from the bottom up with accessibility in mind. No competitor can match the ease of maintenance that a PCM has.
Engine Protection Monitoring
Every PCM engine comes with a built-in monitoring system to make sure your engine is always at optimal performance.
5 Stage Paint Process with Corrosion Protection
PCM's unique paint and coating process leads the industry in protection against the harsh watersports environment.
Marine Towsport Oil Pan
Designed with watersports in mind, the marine towsport oil pan ensures your engine always has the necessary oil to perform at peak levels during all watersport activities.
GM Marine Engine Technology
GM is undoubtedly the leading platform chosen by watersports enthusiasts everywhere. PCM's long-standing partnership with GM ensures you have the most trusted names in the marine industry powering your boat.
Electronic Shift Transmissions
High Amp Alternator